Unleash the Power of Cloud
With the
LzLabs Software Defined Mainframe®
Cloud deployment as a technical alternative to existing infrastructure is a prominent feature of many digital transformation discussions today. Those discussions, however, should really be about how cloud can expand business models and boost innovation.
Separating the underlying IT infrastructure ownership and management from envisaged new business models provides a much better, more flexible, environment for these kinds of decisions.
At LzLabs our vision is to liberate organizations from the limitations of legacy applications so they can achieve agility, flexibility, and cost effectiveness from their computing platforms.
To help organizations achieve this vision, LzLabs has developed a managed container technology - the LzLabs Software Defined Mainframe®, which eliminates the need to modify and recompile mainframe application source code and preserves mainframe data in its native encoding format.
If you would like to learn more about how LzLabs can help you run legacy applications in modern evironments, download the Power of Cloud White Paper.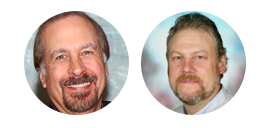 Dale Vecchio, Chief Marketing Officer, LzLabs
Bob Ellsworth, Director, Enterprise Modernization, One Commercial Partner, Microsoft