Leverage the Power of Open
With the
LzLabs Software Defined Mainframe®
Some of the world's largest organizations are caught in the nexus of dependency on proprietary mainframe applications with painstaking development cycles. These organizations are closed to the world of innovation enabled by the open-source software community. Consequently, they suffer from a lack of agility and are threatened by agile peers unhampered by the shackles of the mainframe.
No organization should be dependent on such a model in the 21st century.
Luckily, there is a better, smarter, way.
At LzLabs our mission is to create revolutionary software solutions, leveraging the creativity of open source innovation and the power of cloud computing to reduce the risks associated with dependency on proprietary solutions and to help businesses attract a modern workforce.
If you would like to learn more about how we can help you run legacy applications in modern environments, without the need to modify and recompile mainframe application source code, download the Power of Open White Paper below.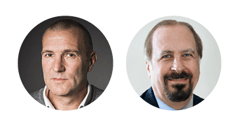 Mark Cresswell, Chief Executive Officer
Dale Vecchio, Chief Marketing Officer